What is Soft Wash Roof Cleaning?
Soft wash roof cleaning is the safest and most effective way to remove algae, lichen, and moss off of your roof.  Leaving it looking like the day you put it on.
What is all those black streaks on your roof? That's algae!  Not only is it asthetically displeasing but believe it or not it is prematurely diminishing the life expectancy of your roof, Dramatically!  Algae actually eats away at the limestone holding your granules on your shingle.  The granules are the first line of defense keeping the suns harmful UV Rays from penetrating through the asphalt layers.  Depending on the severity this can take 5-10 years off the life of the shingle!
Our process is a low pressure, safe, and the most effective way of prolonging the life of your roof. This is not a higher pressure wash, we are using just enough pressure (MAX 300 PSI) to make sure we can reach every area of your roof with out stepping foot on your roof , if need be.  Our chemicals we put together are highly effective, safe for plants, and takes away the need for high pressure washing, which leads to premature gradual loss.
Our guarantee comes with a three year warranty. Once we treat the roof 95%-100% of all the algae will disappear. On occasion there can be miner streaking left, please allow 3-4 weeks for the rest of the problem areas to die out.  If there are any issues past the 4 week mark, we will come back out at no additional charge to treat those areas.
With this service we will also be doing a complete roof inspection.  This will also including caulking all flashings and penetrations as need be.  If there are other issues with the roof we will bring that to your attention before we start the job. This also includes a free gutter clean as well.
For a limited time we will be offering a free driveway cleaning with every roof wash as well.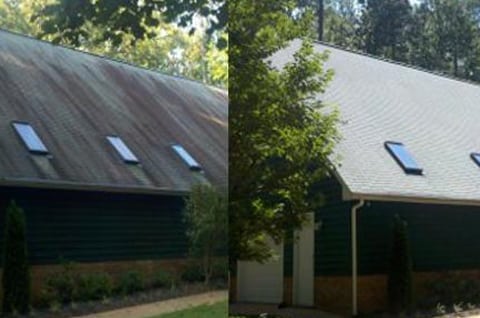 Most effective way to remove algae, lichen, and moss