How Does Insurance Cover Roof Repair?
Bad weather can take a toll on your roof, and overtime, your roof will need to be replaced. Royal Crown Roofing understands the value and sensitivity that people place on their single greatest investment—their homes! We realize that homes are a place where people relax, have fun, and raise their families! Because of this, Royal Crown Roofing uses only the best products available.
We deliver guaranteed workmanship
We use the highest grades of roofing materials
The warranty: Roofs that have outlived their warranty may fall outside the scope of an insurance policy.

Whether you need roof replacement on your current house, are moving into a new home, or building the home of your dreams, our services in roofing and repairs will bring you the best value roofing possible.
It is always wise to contact your insurance company to discuss filing a claim. They will require you to get an estimate for the work from professional Houston roofing contractors, and most companies will allow you to choose the business. Your policy provider may require photographs and may send a claims adjuster to verify the damage and that the work was done to completion.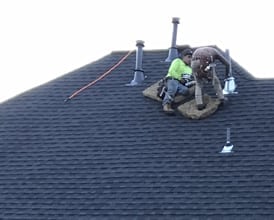 Allow us to navigate the insurance process and fix your roof.