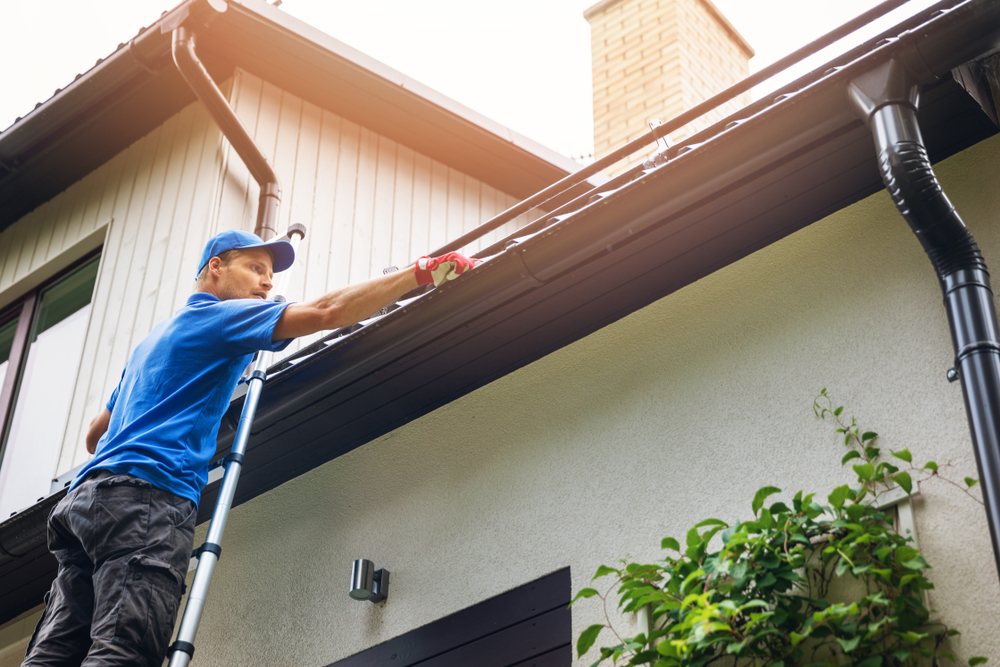 Gutters are an important addition to your house, protecting your roof and landscaping alike from excess water damage. But as any homeowner knows, clogged gutters do no one any good and are truly a pain to clean. Letting them fill up with leaves and debris prevents free water flow, but trying to remove those leaves is a chore. How can you handle it?
It's time to clean your roof gutters! Here's how to do so safely and get your roof back in shape. #RoyalCrownRoofing Click To Tweet
Cleaning Gutters & Downspouts Safely in Spring, Texas
The most obvious concern when cleaning gutters is safety. After that, you're probably wondering how to scoop out all the debris and what supplies you'll need. Here are several important factors to consider as you prepare to clean out your gutter system:
Protect your hands and eyes

Use a sturdy ladder

Find the correct equipment

Clean the roof and downspouts

Take preventive measures

1) Protect Your Hands & Eyes
Simply put, you have no idea what's hiding in those dirty gutters. Homeowners have experienced rats, bees, and more hiding under organic debris. And even if you escape having critters hiding in your gutters, who wants to scoop out dead leaves and stagnant water with their bare hands? Play it safe and protect yourself from whatever might be in those gutters.
2) Use a Sturdy Ladder
This should go without saying. A strong, sturdy ladder, ideally with a friend holding it at the bottom, is essential to a safe cleaning job. Use a new ladder and find a strong place on the ground to balance it while you work. And if possible, use a metal ladder rather than a wooden one. Wooden ladders tend to be less stable than their metal counterparts.
3) Find the Correct Equipment
Use a gutter scoop to remove debris, rather than scooping out the blockage with your hands. This streamlines the process and makes things more pleasant for you. Once you've removed the worst of the debris, use a trigger spray attachment on your garden hose to remove any remaining pieces and clean the gutters more thoroughly.
4) Clean the Roof & Downspouts
Freshly cleaned gutters won't do much good if the downspouts are clogged too or the roof is covered in leaves that the next rainstorm will wash down. Spray down the roof and flush your downspouts with the hose to remove any and all potential blockage. This will ensure that rainwater cannot pile up on your roof again.
Pro Tip: Don't walk on the roof during a gutter cleaning session! The roof will be slick from the garden hose and dangerous to walk on. Stay on the ladder while you work.
5) Take Preventive Measures
Finally, don't let your gutters get too clogged up. Plan on cleaning your rain gutters at least twice a year, more often if you live in an area prone to falling leaves. A few minutes of work could save you a lot of trouble later on.
Keeping Your Spring, TX. Roof in Good Shape
Cleaning gutters is no one's favorite chore and must be done with care. However, the payoff of a clean, solid roof is absolutely worth it. Make sure to check your gutters periodically and clean them clear to prevent costly damage later on.
Connect with us to schedule your free roof inspection today!